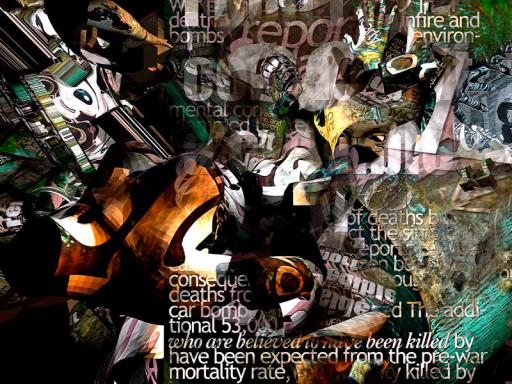 Image by [Peter Ciccariello's](http://invisiblenotes.blogspot.com/) "Credible report III"
Visual Poetry
Visual poetry (also called VisPo and concrete poetry) is poetry in which the visual element is as important—or sometimes more important—than the verbal one. It's meant to be seen. All poetry has a visual component, but visual poetry self-consciously emphasizes and exploits images in the creation of meaning. To many, these poems are not just literary works, but works of art.
While some claim that visual poetry has existed since humanity's first use of writing, many see its modern Western beginnings either in 1896 with Mallarmé's Un Coup de Dés or around 1914 with the work of Guillaume Apollinaire and Italian Futurist F.T. Marinetti.
Visual poetry experienced a renaissance in the 1950s and 1960s on the European continent and in Brazil with the movement known as concrete poetry.
Eugen Gomringer, "Wind"
Haroldo de Campos, "Nasce Morre"
Throughout the '50s and '60s—and afterwards—people also created poetry incorporating more complex pictures. Some labeled it "visual poetry" as a category distinct from concrete poetry. How concrete and visual poetry are classified and related to each other is still open to debate.
Carol Stetser, "Hierogram"
K.S. Ernst and Sheila Murphy, "Vortextique"
Peter Ciccariello, "Proposed monument to the language of rupture"
Today many visual poets have incorporated sound and motion in their poetry:
Visual poetry takes a variety of forms. The genre has an elasticity that leads to ever-widening avenues for creation of meaning. The links to the poets here give are just a tiny taste of its rich world.
……..
Guest blogger Melissa D. Johnston
Her own visual poetry and art work can be seen on Artwalk
Learn more about her at Windspirit Girl (also includes flash fiction and essays)